Convenient Location
Tarcutta RSL & Citizens Club

300 m

Australian Truck
Driver's Memorial

2 mins

Charles Stuart
University Wagga Wagga

30 mins

Wagga Wagga City Airport

30 mins
Towns Near By
| | |
| --- | --- |
| Gundagai | 46 km |
| Wagga Wagga | 48 km |
| Tumut | 65 km |
| Holbrook | 70 km |
| Sydney | 422 km |
| Melbourne | 454 km |
Find Us
1 Sydney St
Tarcutta NSW 2652 [map]
Call Us
Ph: (02) 6928 7294
Great Reasons
To Stay With Us
| | |
| --- | --- |
| | Free WiFi Internet |
| | Centrally Located |
| | All rooms are non-smoking |
| | All rooms are air-conditioned |
| | Swimming Pool |
| | Stables |
| | Room Service Breakfast |
| | Flat Screen TV |
| | Guest Laundry |
| | Family Rooms |
| | Restaurant |
| | 2 mins to city centre |
| | Halfway between Melbourne and Sydney |


Tarcutta Local Area
Tarcutta Halfway Motor Inn - Tarcutta is located conveniently halfway between Sydney and Melbourne, and for many years has been the overnight stop destination for family travellers, business travelers and truck drivers. It is roughly 420km to both Sydney and Melbourne.
The rural setting gives way to beautiful mountain ranges in places, including the Tarcutta Hills Reserve, and is conveniently located between Holbrook and Gundagai on the Hume Highway.
The main attraction in Tarcutta is the Australian Truck Driver's Memorial, http://www.tarcuttamemorial.com/ which was established in 1994 dedicated to members of the truck driving community, while the Woolen Mill is located two doors down from the Tarcutta Halfway Motor Inn (http://www.tarcuttatextiles.com.au/).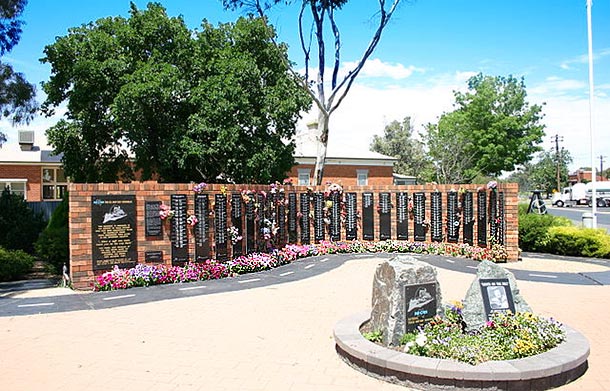 Tarcutta's favourite son is tennis legend Tony Roach, who went on to win 15 grand slam titles before coaching many current day top players including Roger Federer, Patick Rafter, Ivan Lendl and Lleyton Hewitt.
Tarcutta Businesses
There are shops and service stations within Tarcutta, a short walk from the motel.
Caltex Service Station with Restaurant
Post Office
Tarcutta Rural Supplies
Tarcutta Auto Supplies
Farmhouse Craft Shop
Childrens Playground and Rest facilities
Tarcutta Hotel
Tarcutta RSL
Check out the Craft Shop for some great decorating ideas and collectibles. There is also a Cafe/Restaurant if you need a short stop before you head on your way or if you need any supplies on your way through, check out the Auto Supplies shop, or the Tarcutta Caltex Garage